Posted On: September 14, 2022 by Farmers Trust & Savings Bank in:
September is National Mortgage Professional Month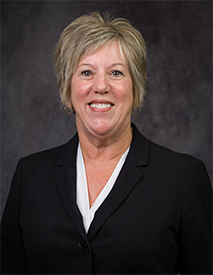 This week we are recognizing Rita, one of our mortgage bankers who plays a huge role in helping our customers finance their dream of homeownership.
We asked Rita, what she has learned throughout her time in the mortgage industry and what makes her different from other mortgage lenders.
How did you get into real estate lending?

"I started in lending as an installment loan officer, transitioned into real estate as a loan processor, and later given the opportunity to manage the department."

How long have you been in real estate lending?
What has been the biggest change you have seen in the industry during your time as a lender?

"Technology - "When I started in lending, everything was done through the mail, paper applications, and fax machines. The process is now much more flexible with mobile applications, email, computer correspondence, and e-sign capability."

What is your favorite part about the mortgage lending world?

"Seeing the smiling faces at closing, and satisfaction from helping homebuyers make their homeownership dream a reality."

What sets you apart from other lenders?

"I feel my knowledge of the home buying process sets me apart. My years of experience help with educating our customers throughout the entire process."

How do you help customers - what role do you play in buying their home?

"Assist with the homebuyer process from application to close. I am available to answer questions during the entire loan process , and will provide continued service after the loan is closed."
Since 2011, home sales in the United States have steadily grown, meaning year after year, more and more people are needing to buy a home. Whether it's a first time home or the next, Rita understands how exciting and stressful the process can be. However, when you are ready, she is eager to work hard to make your home loan a reality! Contact her or apply today and see the difference!
Rita S. Hoffman
Vice President of Mortgage Lending
NMLS: 470195
Phone: (712) 580-7025