Choose a Lending Partner For Your Business
Local businesses are the backbone of any community. They create jobs and invest in our communities to make them better places to live and work. Farmers Bank understands the importance of local businesses and believes in investing in those businesses the same way they invest in the community. We offer a wide range of business loan options to help your business grow and thrive. Get started by visiting our office and speaking with our business lending team.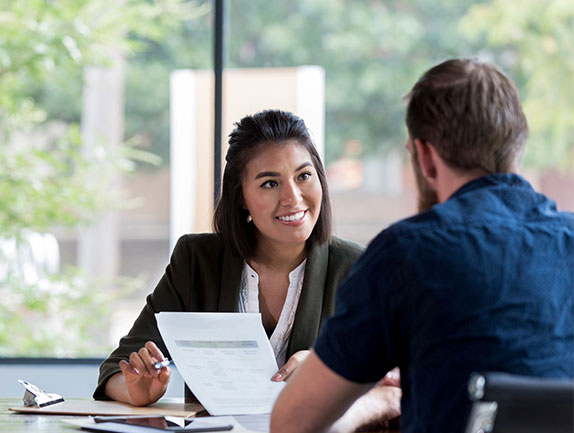 Business Loans We Offer
Term Loans: These loans offer a fixed rate and flexible terms and can be used for a variety of purposes
Construction Loans: Fixed or adjustable rate loan with flexible terms. Interest only occurs during construction. Once construction is complete the loan could be converted to a term loan. A construction loan can be used to fund aspects relating to building or renovating a new space for your business.
Lines of Credit: Manage highs and lows with a line of credit to help you maintain consistent cash flow
Letters of Credit: Connect with more suppliers with a letter of credit that adds payment security
Equipment Loans: From office furniture to new technology, we have you covered with this loan
SBA Loans: These loans will help small business overcome barriers to getting started and are offered through the Small Business Administration
---
Required Documents for New or Established Business Loans
For the business:

Business information: type of business, legal documents, EIN, & copy business plan or summary of the business and its operations
3-year of business tax returns
Year to date profit & loss statement
Year to date balance sheet

For all business owners/borrowers/guarantors

Personal information including name, address, SSN, DOB, driver's license, title, ownership %, etc.
3-years of personal tax returns
Personal financial statement
Start up Businesses - Helpful Resources
Personal Financial Statement
New Business Toolkit
---
Helpful resources for planning your business.
Check out sba.gov - (business plan formats)
Visit your local Small Business Development Center (SBDC)

They can assist you with:

The thought process of starting your business,
What elements you need to consider, and
Walk you through preparing projections in your first few years of operation)

Search the internet
Chamber Business Directory will have contact information for CPA's, attorneys ect.
The City also offers great business resources
Contact one of our experts with any of your business loan needs.