Posted On: August 21, 2020 by Farmers Trust & Savings Bank in: Financial Security, General
As of August 21, 2020 Our Website May Not Be Available On Outdated Browsers
As part of our never-ending quest to keep our site secure, our web service provider will be upgrading the level of security for our website. This may affect some visibility of our website on older web browsers.
How this may impact your access to the Farmers Bank's website?
If you currently are using one of the older versions you may have trouble getting to the Farmers Bank website....
Read More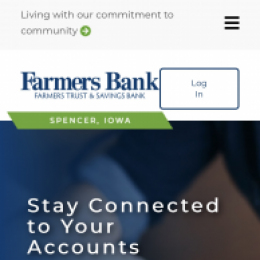 Posted On: July 29, 2020 by Farmers Trust & Savings Bank in: General
We are excited to introduce you to our new and improved website! At Farmers Bank, we're always looking for new ways to meet the needs of our customers, making banking easier and more convenient.
We've also been developing more and better ways for you to bank online and with your mobile device. Our latest step forward has been to rebuild our website. In July, we will introduce a whole new Farmerstrust.bank. Designed from the ground up and focused on our customers,...
Read More