Find Your Loan Solution for Your Dream Home
Purchasing a home is one of the biggest decisions you'll make. Not only are you making a decision on where your family will live, but you're making an investment in your future. Whether you're new to the home buying process or have gone through it before, it's important to work with a lender that you can trust. At Farmers Bank, you can trust that we'll work with you to find the right home loan. From pre-approval to closing, our mortgage experts will be with you every step of the process.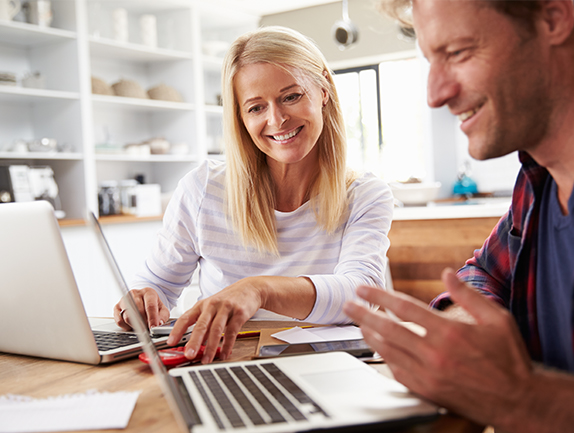 Mortgages
Choosing the right mortgage option is based on a variety of factors. We'll help you figure out which loan is the right choice for you and your family. Our mortgage loan offerings include:
First-Time Home Buyers: Farmers Bank is a Preferred Partner of Iowa Finance Authority. This allows us to provide special financing options to first-time home buyers. For more information on these options, contact a Farmers Bank mortgage expert or go to IowaFinanceAuthority.gov.
Fixed-Rate Mortgages: Your interest rate is set throughout the life of the loan and you make a consistent payment from month to month.
Adjustable-Rate Mortgages: Your initial interest rate will be fixed for a specific period of time. Your interest rate can then adjust up or down based on market conditions. Your monthly payment will also adjust to match changes in your interest rate.
Mortgage Refinancing: Take advantage of lower interest rates by refinancing your home loan. In addition to reduced interest rates, refinancing your mortgage can also lower your monthly payment and reduce the terms on your loan.
FHA Loans: Offered by the Federal Housing Administration, FHA loans are offered to borrowers who may face challenges in getting a traditional home loan. These loans offer reduced down payments and credit score requirements.
VA Loans: Available to military veterans and their families, Veterans Administration (VA) loan benefits include no down payment requirement, no mortgage insurance requirements and reduced closing costs.
Home Loan Grant Programs
There are several grant programs available to borrowers who meet certain requirements. These grants can aid in reducing down payments and closing costs. To learn more about these grants, please contact us.
Grant Programs Available at Farmers Bank Include:
Home$tart® Grant: Receive up to $7,500 in grant funds for the down payment and/or closing costs for the purchase of your home. The Home$tart program is available to qualifying first-time home buyers earning up to 80% of area median income. The program is subject to funding availability.
Iowa Finance Authority Plus Grant: Offers qualified home buyers affordable mortgage financing with $2,500 in entry cost assistance. The grant must be used in conjunction with an Iowa Finance Authority single-family mortgage program. Visit the Iowa Finance Authority website to learn more.
Iowa Finance Authority Military Homeownership Assistance Program: The State of Iowa recognizes how much our service members have done for us. We'd like to help welcome you home with the Military Homeownership Assistance Programs.

The program provides a $5,000 grant to service members and veterans for down payments and closing costs on qualifying homes. The funds may be used in conjunction with the FirstHome and Homes for Iowans programs. This program is limited to funding availability.
LeAnne Hamrick

AVP Real Estate Lending

NMLS: 1437688

Division: Mortgage Banker

Phone: (712) 580-7044

Apply Now Contact Me