Posted On: October 6, 2020 by Farmers Trust & Savings Bank in: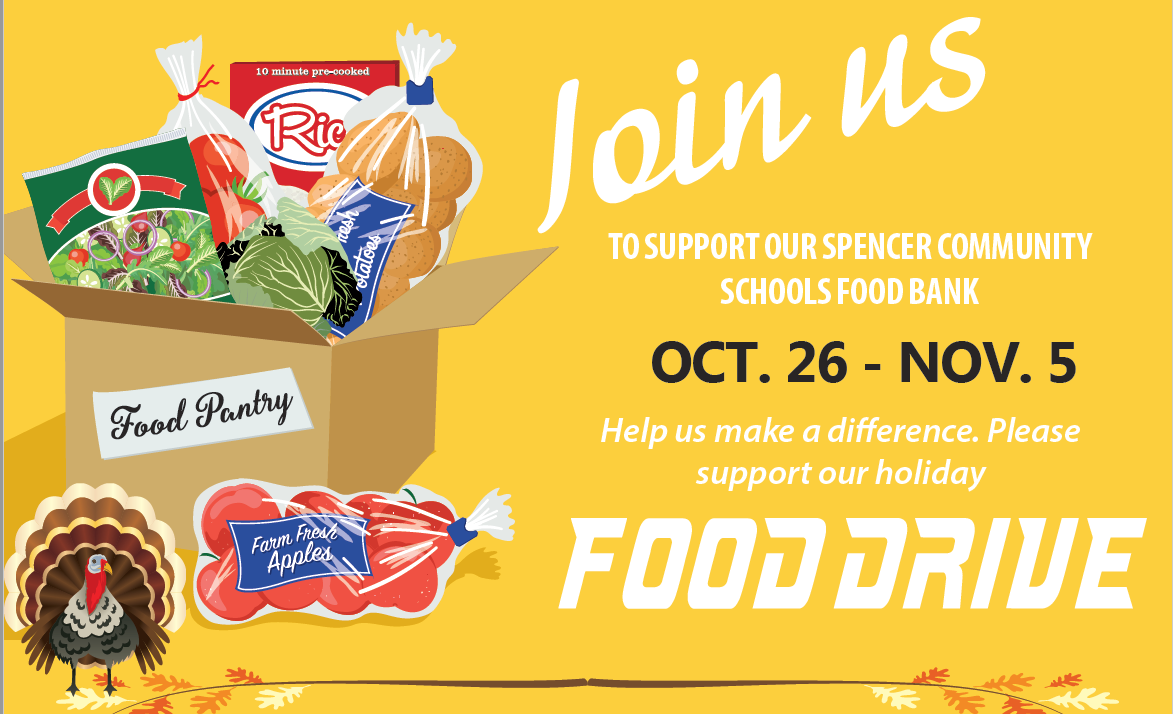 Help us make a difference by donating food items or money to the Spencer Community School Food Bank. We will be collecting for two weeks and will deliver the items on the 6th. Just in time for the holidays. We will have a freezer for items that need to be kept frozen.
Bring your items to the bank anytime Monday - Friday, 8:30 am - 4:30 pm, (Oct. 26 - Nov. 5).
Ideas to Donate:
Hygiene items
Holiday items:

Ham
Turkey
Potatoes(instant)
Cranberry sauce
Stuffing
Pie crust/filling
Cookie mixes (decorating items…sprinkles,frosting)
Gravy

Meat
Boxed meals
Granola bars
Fruit snacks
Pop tarts
Small boxed cereals
Juice
Water
Gatorade
Snack items
Ramen Noodles
Easy Mac
Dry Soup Packages
Soup Crackers
Beef Ravioli
Tuna Helper
Chicken Helper
Canned Chicken
Hamburger Helper
1 lb. packages of frozen ground beef
Frozen Tater Tots/French Fries
Frozen Pizzas
Frozen Individual Meals
Instant Potatoes
Snack Size Packaged Items- cookies, crackers, etc.
Mini Muffin Packages
Mini Pop Tarts
Complete Pancake Mix
Pancake Syrup
Apple Juice (non-refrigerated)
Orange Juice (non-refrigerated)
Shampoo
Conditioner
Toothpaste
Body Wash
Hair Brushes
Large Tooth Combs
Toilet Paper
Paper Towels
Hats
Gloves
Laundry Detergent
Fabric Softener Sheets
*These students are middle school aged that are daily coming in to get food/necessities for their families.
*Think of things that would be easy for a student to open and prepare for them and their siblings if they are home alone(easy to open)
*For the holiday items….think of things that you and your family would normally enjoy at the dinner table at Thanksgiving/Christmas